How would you like a 30% reduction in your manufacturing timeframe? Or look at it another way …how would you like to be able to produce 30% more without increasing the size of your footprint?
In this article I'll share with you how a local Australian micro-brewer, Wolf of the Willows' broke the mould and did exactly that. I'll discuss how they employed new digital manufacturing technology which has helped see them through the difficult COVID period. Speed, flexibility, batch size – are all an important part of this story.
Wolf of the Willows faced significant challenges due to COVID. At the start of the year, more than 80% of their business was kegs. That means they were set up for places like pubs and bars who use kegs to supply their beer on tap. The problem was that restrictions, especially in Victoria, meant that pubs and bars have been forced to close for months and there was little or no demand for kegs.
Scotty McKinnon, owner and head brewer at Wolf of the Willows, had to reset his thinking and really pivot 180 degrees in order to switch to at least 80% canned beer instead. It was great to hear him talk about this during the masterclass at a recent virtual Oktoberfest event. Another change Scotty has seen is that his brewers can now login, check and adjust remotely. The care they take in creating the perfect brew can begin before they leave the home – especially as the brewing cycle doesn't work nine to five.
Collaborative Partnerships
One thing I've always talked about is the benefits of collaboration. We collaborate with education and research sectors. We collaborate with governments and we collaborate with other industry partners.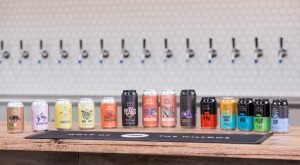 Technology is only useful when it has a purpose and when it creates customer impact. In the case of Wolf of the Willows and other micro-breweries it gives me great pleasure to see Siemens' automation and digitalization technology combined with s DEACAM's Fermecraft system to drive real outcomes.