Fermecraft's versatility and industry 4.0 technology has proven highly effective and scalable in frozen fruit packaging, as it is with wine, beer and spirits production.
Temperature control is a central feature of the Fermecraft system and it is this capability, along with the automated alert system and data management power of Fermecraft, which has transformed the way Aussie Frozen gets its product reliably to market.
Managing-Director of Aussie Frozen, Brett Jackson said their business has completely changed using Fermecraft across their factory and freezer systems.
"As an Australian company, manufacturing and production is already expensive so we have to find efficiencies and cost-savings anywhere we can.
"Fermecraft helps us to do just that. We minimise wastage, save energy and in time, we will have a fully automated system through the whole workflow of our business – where I can access information in real time, have a clear view of our efficiencies and understand our standard production costs through a single dashboard.
"At the moment, we're still growing into our boots and building our production capacity, which Fermecraft is helping us to do." 
Aussie Frozen generates 19 to 20 tonnes of fruit per day; freezing and packing this fruit into 400g bags of frozen product. Fermecraft tracks the temperature of the cold storage and freezer systems as the fruit moves through all phases of the production process.
"The system sends me a signal if there is any issue in our cold storage production, even for something as simple as the freezer door being left open.
"We freeze each piece of fruit individually and we freeze them deeply and quickly. To do this we run all our freezers at -20˚C. Any breakdown in the cold chain, therefore could seriously affect the quality of our product," he said.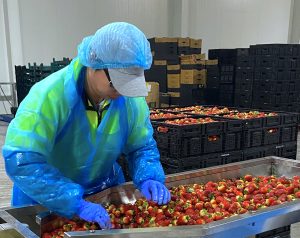 Fermecraft helps to reduce waste.
Brett suggested any increase in temperature, even for a short period of time, can create juice in the fruit package and when frozen again, can create clumps of fruit and a less than perfect product.
"We find IQF (Individual Quick Freezing) enhances the flavour and quality of the fruit we package. If there is any fault in our temperature control we can see a lot of our product got to waste."
And waste reduction is a key principle of what Aussie Frozen is all about.
Started by strawberry farmer, Joe Pignataro, Aussie Frozen emerged out of a need to reduce the amount of waste created from strawberries, which did not meet specification.
"The specifications requested or demanded by fruit wholesale customers are mostly cosmetic. A lot of fruit gets rejected by its size and shape; it has nothing to do with its flavour quality," said Brett.
"So the majority of the fruit we package and freeze would otherwise be thrown away and wasted. We're helping farmers to generate some income for the fruit they grow regardless of specification, allowing them to recover some of their production and farming costs."
Aussie Frozen has developed a strong business model over just 12 months of operation.
They create frozen strawberry, blueberry, mixed berry, mango and will soon have pineapple products, which they sell exclusively to Woolworths.
"Pineapple is going to be a very exciting product for us, and the quality of frozen versus canned pineapple is quite impressive. There's a lot of pineapple that gets dumped and goes to waste.
"We're really happy to be able to help farmers manage this waste much better," said Brett.
They also supply contract clients with frozen fruit and although they don't export as yet, it is something Brett said they are planning for once they have achieved a national foothold.
Real-time alert system to manage temperature control.
Fermecraft Founder and Director, Warren Bradford said the work they've done at Aussie Frozen has generated peace of mind for the Aussie Frozen team.
"The temperature control and alert system Fermecraft brings to Aussie Frozen gives them comfort to know they will get an email or SMS in real time if there is any problem at all in their cold chain.
"They no longer have to double check or triple check freezers and record temperatures manually. Essentially they have saved themselves a lot of time and got their weekends back," said Warren.
Using the Programmable Logic Controller (PLC) developed by Siemens, Fermecraft custom built a software system to deliver Aussie Frozen with the right sensor data collection process and criteria for which an alert will be triggered to team members via SMS and email.
The Mindsphere software built into this PLC platform provides a vast amount of information, which is collected and stored in real time to provide Aussie Frozen with reporting and internal auditing of their temperature control systems.
"The data we generate for Aussie Frozen gives them a lot of power to proactively guard against any problems and also report retrospectively to meet any compliance requirements, should there be questions about the quality of their frozen fruit products," said Warren.
As Aussie Frozen brings on new equipment and new products, expands their capacity and grows their work team, Fermecraft will scale to their needs and enable Aussie Frozen to do what they do superbly well.